Project Review - FPV Camera with a LCD Screen

Synopsis: The GitUp series is one of those recent low cost 1080p breakthrough that caught the attention of casual photographers, enthusiasts and critics alike. Weighing only 64g, it successfully fitted a 1.5 inches LCD viewing screen and yet kept within the standard size for use on a GoPro gimbal. The LCD allows you to see what you are filming; at times you only get one chance on a shot, and not seeing what you are filming, can be a bummer if you missed half of it.
The Git1 manages to find room to include Wi-Fi capabilities that can be set-up if you have a smartphone or tablet that supports wifi. In addition, you can connect your favorite 3.5mm Stereo external microphone, which means you don't have to hear your heavy breathing or wind sound on a windy day. The Git1 is only capable of shooting at a maximum of 1080P HD video: 1920 x 1080; 30fps but the Git2 promises to double the frame rates. As a Remote Pilot, I look for AV out, and Git1 is AV ready (same USB as a GoPro), the angle of View: 160°,120° if it matters to you for FPV flying.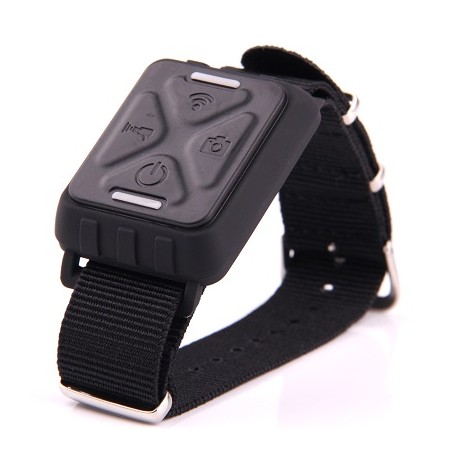 This watch-like control was designed for GitUp Git1 Action Camera to remotely control the camera to take videos and pictures. Using a standard Built-in lithium CR2032 battery, the control distance: 5 - 7 meters
The Git1 carries a 950mAh lithium-ion rechargeable battery, other features Micro-HDMI Port and a Watch remote control.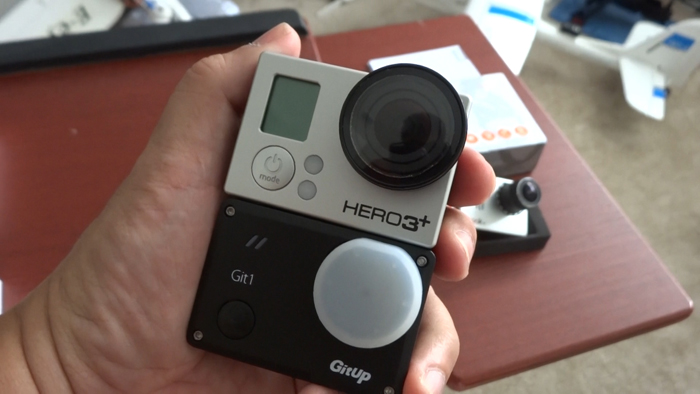 AV out USB is the same as GoPro, which means if you have been flying with a GoPro, you don't need any different gears.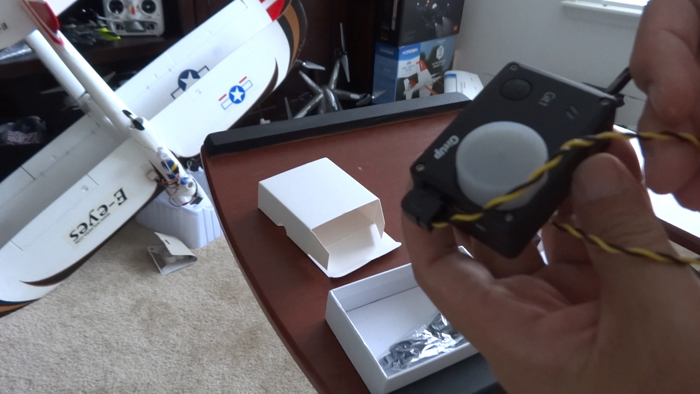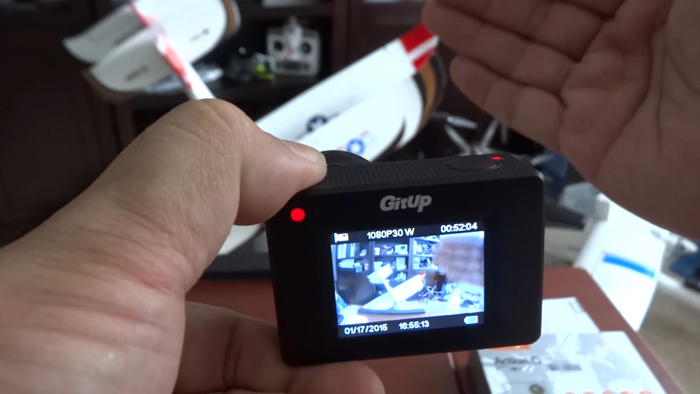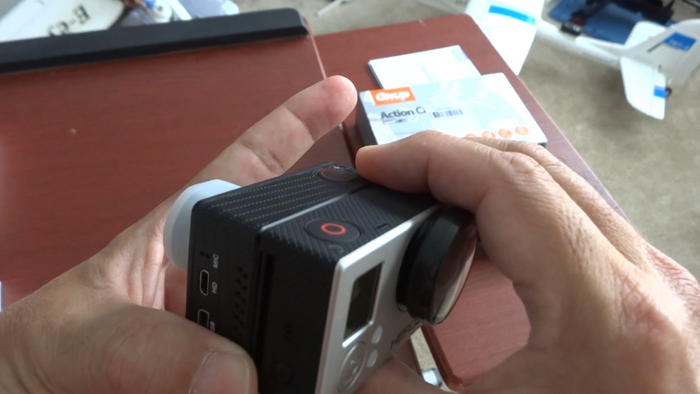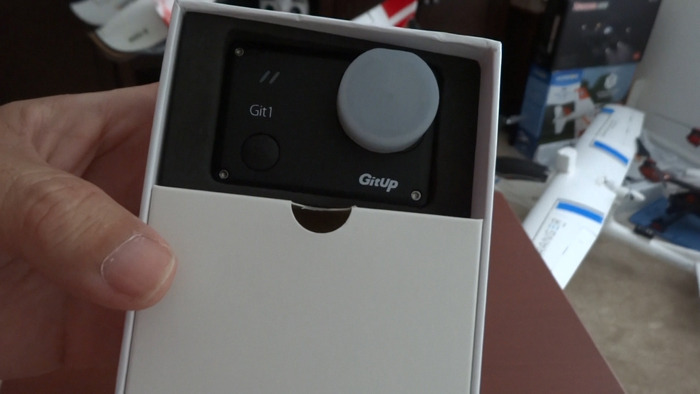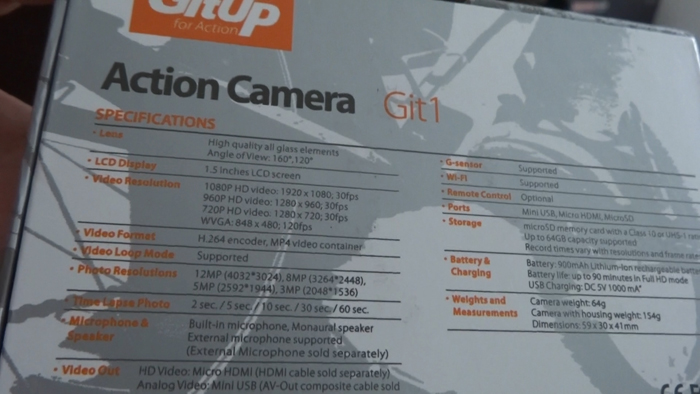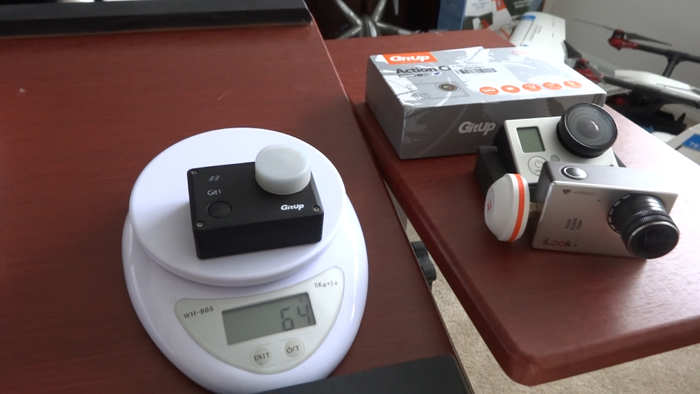 Camera Edition
GIT1(Standard Packing)
GIT2(Standard Packing)
GIT2(Pro Packing)
Lens
High quality all glass elements
Angle of View: 160°,120°
High quality all glass elements
Angle of View: 160°,120°
High quality all glass elements
Angle of View: 160°,120°
Resolution
1080P HD video: 1920 x 1080; 30fps
960P HD video: 1280 x 960; 30fps
720P HD video: 1280 x 720; 30fps
WVGA: 848 x 480; 60fps
1440P HD video: 2560 x 1440; 30fps
1080P HD video: 1920 x 1080; 60fps
1080P HD video: 1920 x 1080; 30fps
720P HD video: 1280 x 720; 60fps
720P HD video: 1280 x 720; 120fps
1440P HD video: 2560 x 1440; 30fps
1080P HD video: 1920 x 1080; 60fps
1080P HD video: 1920 x 1080; 30fps
720P HD video: 1280 x 720; 60fps
720P HD video: 1280 x 720; 120fps
Wi-Fi

Built-in

Yes
Yes
Yes
G-sensor
Yes
Yes
Yes
Housing
No
No
Standard Housing(30m)
Remote
Optional(Sold separately)
Optional(Sold separately)
Optional(Sold separately)
Time-lapse (Intervals)
1, 2, 5, 10, 30, 60 seconds
1, 2, 5, 10, 30, 60 seconds
1, 2, 5, 10, 30, 60 seconds
Instaneous Video + Photo
Photo every: 5, 10, 20, 30, 60 seconds; Manual
Photo every: 5, 10, 20, 30, 60 seconds; Manual
Photo every: 5, 10, 20, 30, 60 seconds; Manual
Inputs
Micro-HDMI Port, Composite A/V Adapter, USB, Micro SD, 3.5mm Stereo Mic Adapter
Micro-HDMI Port, Composite A/V Adapter, USB, Micro SD, 3.5mm Stereo Mic Adapter
Micro-HDMI Port, Composite A/V Adapter, USB, Micro SD, 3.5mm Stereo Mic Adapter
Storage (Memory)
MicroSD Class 6 or higher recommended; Up to 64GB capacity supported
MicroSD Class 6 or higher recommended; Up to 64GB capacity supported
MicroSD Class 6 or higher recommended; Up to 64GB capacity supported
Battery
950mAh lithium-ion rechargeable
950mAh lithium-ion rechargeable
950mAh lithium-ion rechargeable
Accessories
1 x 950mAh Removable Battery
1 x Lens Protective case
1 x USB Data Cable
1 x 950mAh Removable Battery
1 x Lens Protective case
1 x USB Data Cable
1 x 30M Waterproof Casing
1 x Lens Protective case
1 x 950mAh Removable Battery
1 x Bike Roll Bar Mount
1 x USB Data Cable
1 x Flat Adhesive Mount
1 x Curve Adhesive Mount
1 x Long Screw
1 x Short Screw
1 x Long Connector
1 x Short Connector
1 x Quick Release Buckle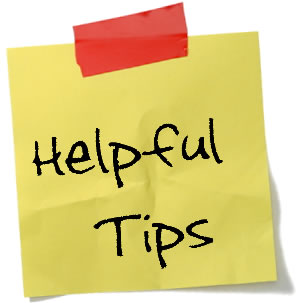 Discussion Forum: http://www.rcgroups.com/forums/showthread.php?t=2470375
Pros: TBD
Cons: TBD

Episode 1: Coming Soon [VIEW]

Episode 2: Coming soon [VIEW]