Education & Training Series
A portable DVR Monitor Blackbox

Synopsis: We have been looking for a portable, light weight monitor and recorder to go with any transmitter on the field. The KS-650M Angel Eye designed as a Spy button DVR is low cost and does just the job. It records all of our flight data with a click of a button, which allows us to airborne within 2 minutes on the scene. It is our favorite choice because is so light and convenient and attaches to our flight goggle. This DVR will not record high resolution videos and degrades if enlarge bigger then 2.5 inch, the purpose is to record all flight data, especially GPS co-ordinates. We have no issues flying with this DVR, you may have to re-arrange your flight OSD around the DVR OSD timestamp, which unfortunately cannot be turned off. Pay no more then: US$57.59.

Specification: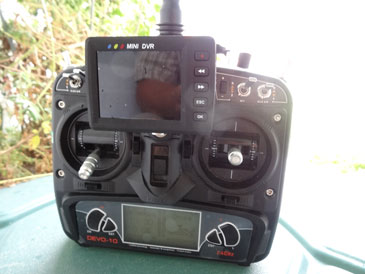 1). 960*240 LCD
2). NTSC/PAL
3). Standard Nokia BLC-2 Li-ion battery 1800Mah

Features:
- Multiple record mode: Motion detect record/manual record.
- Storage full over write automatically.
- Fast video recording by one key function.
- Recording, power ON/OFF via remote control.
- Real time Display/Recording at 30fps with date and time stamp.
- 960*240 high-definition 2.5-inch LCD screen.
- Support 32GB TF memory card.
- Video resolution:800*600/640*480/320*240 optional.
- Video frames 10-30 frames / second optional.
- High-speed USB2.0 interface.
- Audio and video input / output.
- Configuration removable high-capacity lithium battery, 5 hours of continuous playback, video recording up to 3 hours standby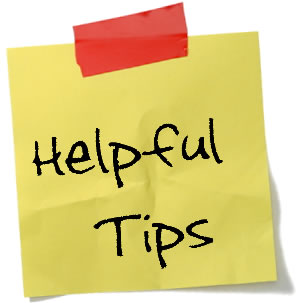 Lost screen brightness: A design flaw. If you had accidentally turned-off your screen brightness, you will no longer be able to see anything. To turn it back on, follow these steps: 1 Power Switch On, ESC, Select Key Arrow Right (R),(R),(R), OK, (R),(R),(R),(R),(R), OK, (L), OK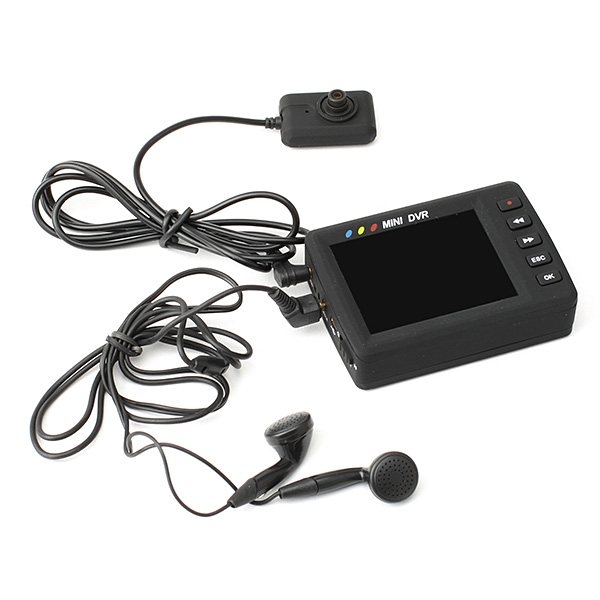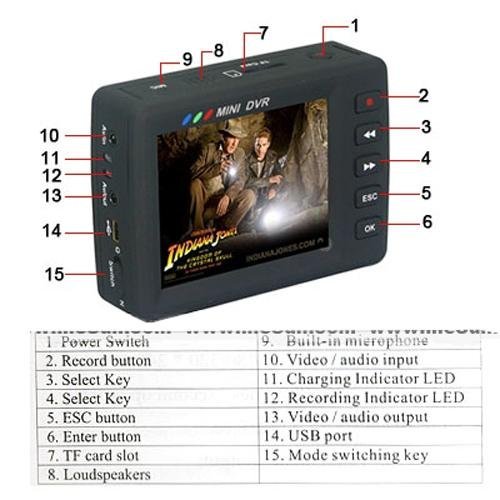 Drone Mission Lab
... behind the scenes June 10, 2013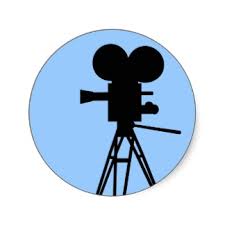 Devo 10 with Angel Eye DVR KS-650M

Review of FPV: First-person view (FPV), also known as remote-person view (RPV), or simply video piloting, is a method used to fly a radio controlled model vehicle from the driver or pilot's view point. Most commonly it is used to pilot an unmanned aerial vehicle (UAV) or a radio-controlled aircraft. The vehicle is either driven or piloted remotely from a first person perspective via an onboard camera, fed wirelessly to virtual reality goggles or a video monitor. More sophisticated setups include a pan-and-tilt gimbaled camera controlled by a gyroscope sensor in the pilot's goggles and with dual onboard cameras, enabling a true stereoscopic view.

Episode 1: Resolution and color (colour) flight test [VIEW]

Episode 2 (in production): Devo 10 with Angel Eye DVR [VIEW]
DM450 Onboard Equipment: Walkera Devo 10 & RX1002, Ardupilot APM 2.5, Horyzon HD v3, Minimosd v0.1, 3DR GPS uBlox LEA-6, 5.8G 400mW Video TX TS353, 3s 4000-5000 mAh. Weight: 1.2 kg. References: foxtechfpv.com diydrones.com.