F2S Autopilot GPS OSD RSSI All-In-One Flight Controller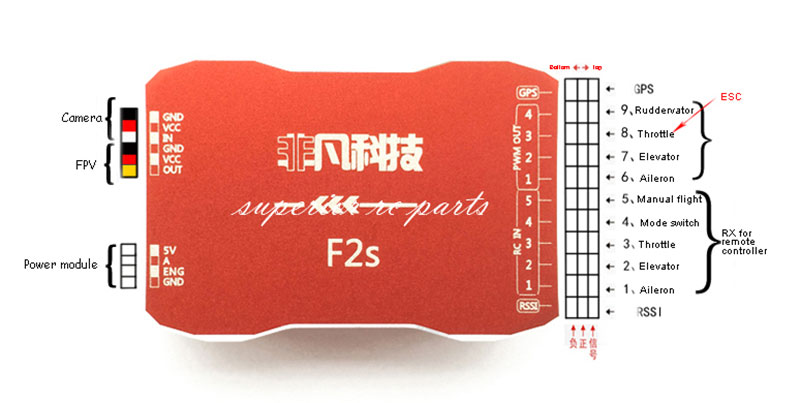 Amazing F2S all-in-1 flight controller, I think this is worth sharing.  The F2S coverts your fixed wing planes into a drone with GPS return home.  In addition, it adds all the telemetry information on your screen.  Best of all, no tuning needed.
We configure the F2S on an Eachine Mini Skyhunter Racer for this episode with a Mobius Mini. It does a nice turn on Return Home and circles in a 8 formation upon returning and begins to climb that 328 ft (100 m) preset. I have been flying this plane without Gyro, so at Manual mode, I still retain the full experience and know I can bail out at any time. The Mini Skyhunter is a fast plane, I noticed the Heading Mode seem to zigzag-drift occasionally, other than that, the rest is good so far. I get the most 11 GPS satellites so far. Here is a video of everything you need to get setup.

Pros – can be installed and tested under an hour, multiple flight modes and comprehensive OSD
Limitations or maybe good – little customization or tuning available or needed. Setup by radio, no computer required…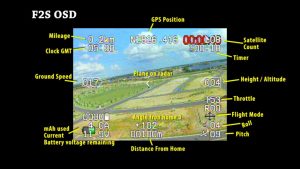 Cons – I do occasionally lose all satellites, but the plane resumes route immediately when satellites are received again.
Factory Specifications
Brand name: F2S flight controller
2S-6S to supply power
M8N GPS
XT60 Galvanometer
Multiple Flight Modes:
Balance mode
Lock mode
Return Home mode
Manual / Acro
To calculate the GPS to Goggle standard Latitude Longitude Degrees Minutes Seconds (LDDD MM SS.SS).  N4347.789 = n43 、47 、47.34 (60*0.789=47.34).  The same applies E10428.344 is read as e104 、28 、20.64 (calculate 60*0.344=20.64). Key-in Goggle Maps = n43 47 47.34 e104 28 20.64
If you are installing a new F2S, you have to calibrate the orientation to setup your preference.  You can have the F2S flat or vertically mounted.  If you ailerons are drifting or unable to align correctly, that is a good indication it is not setup correctly.  You will need your video transmitter working first, as you will need to see your configuration on screen display.  Put the F2S flat or vertical, next go to "S" setting, move the stick to the right and hold for 3 seconds, and you see the orentation calibrate to your choice.