Tag Archives:
radio control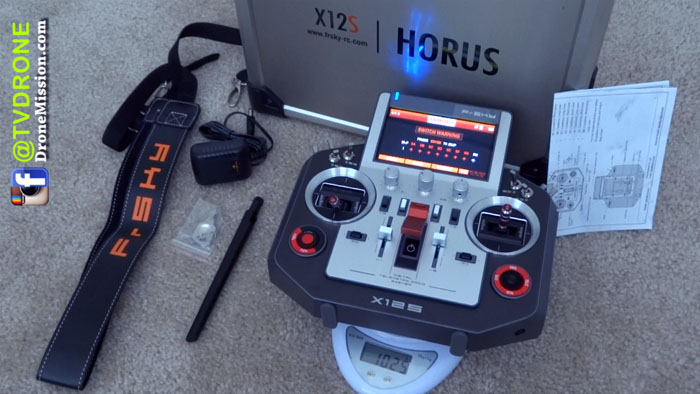 Frsky Horus X12S radio transmitter, 16-32 channel system, is built to make you the God of the Sky, just like the Egyptian God Horus. Just tilt the transmitter to facilitate auxiliary control as there is a built-in 6-axis sensor. Includes Voice Alerts for things like; audible count down timers, low voltage warnings, landing gear down warnings etc., just about anything can be programmed and with full telemetry capability and GPS. ■ by dronemission.com
User Segment

Keen Hobbyist, Pro Radio Transmitter, Collectors, Budget [$$] (PRICE CHECK ■ Nov 2016 Arthur's Pick at Banggood)
First Impression,  the material used is heavy-weight milled CNC aluminum, like a military-grade version of the popular Frsky Taranis. It is impact resistance, weight just under 3 pounds.  The sticks equipped with six ball bearings for precision and durability.  A lot of programming features to keep you up learning and discovering.
What To Expect

It may be overwhelming at the first, but take your time to explore features of a Horus. One of the best features of the Horus is its full telemetry capability, as well as RSSI signal strength feedback, there are 3 different programmable failsafe modes and receiver lock, so no more crashes due to selecting the wrong model. If you have stock in other brand receivers or B&F's, no worries the Horus has a JR style RF module slot, so you have the option of other brand modules such as the Orange DSM2/DSMX or Open LRS 433mhz module. An inbuilt GPS module helps your model know where you are at all times, making it easier to return to you.
Similar Models
Users have considered these 2016 alternatives: Frsky Taranis
Factory Specifications
Brand: Frsky
Item Name: Horus
Number of Channels: 16CH / up to 32CH
Operating Voltage Range: 7~15V (2s,3s lipos acceptable)
Backlight LCD Screen: 480*272, high resolution TFT color screen
Model Memories: 60 (expandable with SD card)
Advance Functions: Full telemetry capability inbuilt GPS module
Gyro: 6-axis sensor (3-axis gyro and 3-axis accelerator)
Trainer: Inbuilt wireless trainer system
Compatibility: FrSky X series, D series, L series and V8-II series receivers
What we love about it
Audible count down timers
Audible programming
Low voltage warnings
What is essential we hope to see in the next version

In terms of ranking, I would say it is in the top 7 favorites during this release recorded November 2016. An update to follow